Have you ever had trouble opening files on your computer? What about opening the DAT File? Let read this article to know more about How To Open DAT File.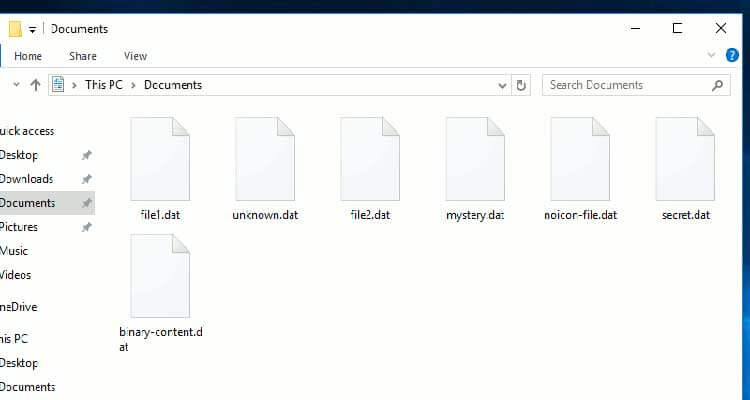 Do you know exactly how to open the DAT file? When we know something, we will identify and act faster for a goal. Similarly, it's good to know how to open any file instead of fiddling around. That will take you a lot of time, so work is also slower.
Maybe a lot of people already know How To Open DAT File. And this article is made for those who are not familiar with these operations. However, everyone can read it for reference to know how to open dat file online,how to open dat file in excel, how to open dat file on mac.
What Do You Know About The DAT File?
What Is The DAT File?
DAT files are files with the extension .dat, containing raw data of the computer. Unlike other familiar file extensions such as .xls (Excel file), .doc (Word file), …, DAT File cannot be combined with any specific program or application. Therefore, the Windows operating system will not know which program this file needs to be opened and will ask you to choose a program to open the file.
Why is it created on the system?
Typically, the saved file will have an extension corresponding to the application used to launch it. However, there are some cases when saved, no matter what application files are run, they are saved as files with the .dat extension. This storage is completely random. That has no effect on the content or anything of the file. But it seems that with these DAT Files, you will have difficulty because your computer doesn't know how to open the .dat file.
How to know if your computer has DAT File
On Windows operating systems, it is quite difficult for users to know whether the system file has a .dat file or not. Because the extension of the episodes will usually be hidden.

To know if your system has a .dat file, you need to change Windows settings and display file extensions. To do this, access Windows Explorer => Tab View.
Specifically, let Windows show the file extension:
On Windows 8 and higher versions, choose File name extensions on the right pane of View ribbon.
On Windows XP and lower versions, click Tab View => Folder options => View and then un-tick Hide extensions for known file types.
How To Open DAT File
1.    In Excel
Identify the program that created the DAT file.
Double click to open this program.
Click the File box in the upper left corner of the screen and click Open (File Explorer window is opened).
Show all files in File Explorer by clicking the file type box to the right of the "Name" text field, then click All Files
Select the file and open it.
Confirm that you want to see the file
2.    In Mac
Confirm the program that created the DAT file and double click on the application icon for that program
Select File, then open the menu in the program you have selected
Click Open
Confirm that you want to see the file if prompte