Thanks to this convenient Dropbox 204.2.4 APK Free Download For Android, you can save all your files and documents on the cloud and open it anytime you want for your different purposes.
Today, smartphones keep updating large internal storage space, it is always more convenient if you have the online storage app on your devices. The reason for it is not because we are afraid that someday our free space will be full so that we cannot install new nice apps or save more photos, videos, and anything else. We just need a safe place where users can save all their personal and remarkable data in case something bad happens to our phones or tablets.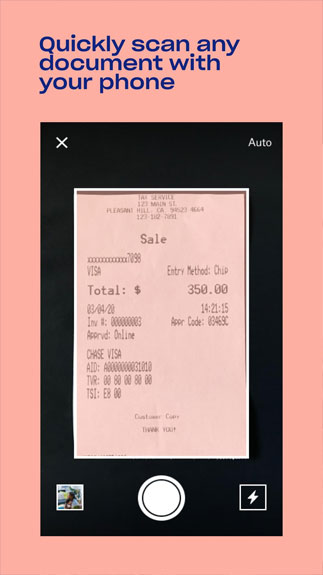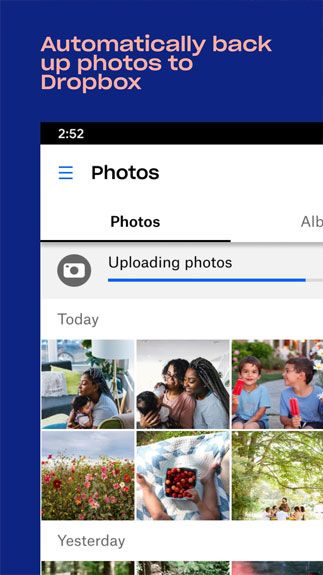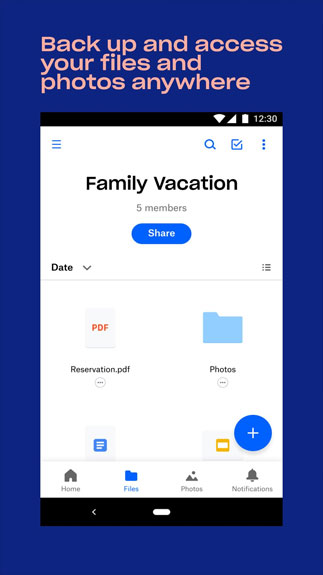 If you search on the Internet, it has hundreds of apps that you can do such as One Drive, Google Drive, Cloud Me, Sugar Sync, Mega, and so on. Now we introduce to you the new app. It was developed in 2007 by two students from MIT University, whose names are Arash Ferdowsi and Drew Houston. It is the perfect
Read more: Dropbox For PC
Combination of low cost, simplicity, and security.
How this Dropbox works and the way to use it.
It is so easy to use that it is suitable for people of all ages. You should have your own account, and then you will be free to open all your folders and files.
Just follow the below step if you want to know the simplest way to upload new files, then share them in this nice Dropbox.
1. Press the blue buttons and the '+' symbol that you can see in the bottom right corner.
2. Select the option 'Upload Photos or Videos', 'Upload Files' according to your purposes.
3. Keep browsing the folders until you see the file that you need to upload.
4. Select the file and then press 'Upload'.
5. To notify you when the upload has been done, look at the Push notification.
6. Share the file that you have just uploaded to the online folder. After that, you will choose the Share option.
7. Create the Read-Only link and then share the files via email to anybody you wish to.
Between Dropbox and Google Drive – Which one is better?
Every time mentioning the online storage service, most people will think about Google Drive because of its popularity.  Actually, in general, Google Drive seems to have more advantages than the one we are introducing to you in this article. It has a larger space and the possibility to allow all users to write, edit, and save the same document at the same time.
Thus, it is a little bit challenging to compare those. If you are a kind of user that wishes not to depend on Google Privacy policies, you can consider this one.
How much does it cost?
This online storage service has various plans and different prices to fit each requirement of users. The details are as follow:
Basic account: with the free version, you receive 2GB of space, if you invite more friends successfully, you will have more 500 extra MB for each invitation.
Pro account: You will spend 9.99 pounds each month and 99.99 pounds each year for 1TB.
Business account: A lot of people in a company or an organization will use it at the same time so its price will depend on the size and number that the company requires.
Wrap up
No matter if you use it for personal or business use, this Dropbox is useful and convenient. After saving the files or folders, you can open it every time you want even if your device cannot connect to the Internet connection at that time, so it is worth it for you to download it and experience it. We are sure that you will not be disappointed with it.
How To Install Dropbox APK
Get the Dropbox APK file from open-apk.com.
Launch file manager on the Android device and tap on Download Files/Dropbox.APK.
One thing that should be noticed is the setting "Accept the installation of unknown source" has been established. If the device has been not yet activated, it can be set up by accessing Settings/Safety/Privacy/Install Apps From Unknown Sources.
As soon as the installation of the Dropbox.APK has been already finished.